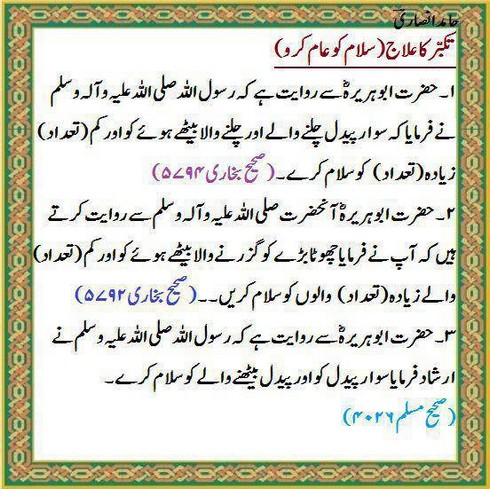 Gharoor aur Takabur ka ilag. hazrat abu huraira r.a say rawaiyat hai kay hazur pak p.b.u.h nay farmaya kay sawar paidal chalnay walay aur chalnay wala baithnay walay ko aur kam tadad ziada tadad waloon ko salam kerain. (bukhari)
Gharoor aur takabaur insan ko kamiyab nahi honay daitay isi liye hamain in ahadees main takabur aur gharoor ka ilag btaya gya hai takay insan is par chal kar khud ko nuqsan say bacha sakay. irshad hai kay sawari par sawar admi paidal chalnay waloon ko salam karay, chalnay wala bethay huyay ko salam karay aur kam tadad ki jamaat ziada tadad kay logon ko salam karay. is say pyar barhta hai aur insan main gharoor aur takabur kam hota hai.
aik aur jaga aia hai kay chota baray ko salam karay, aur jo shaks salam main pehl karay wo gharoor aur takabur say pak hai ye bat bhi hadees main ai hai. so hamain chayie kay ham hadees par amal karain aur salam ko aam karain. aajkal log aik dosray ki parwa hi nahi kartay aur jisay jantay na hoon us kay pas say guzar jatay hain magar salam nahi kartay. darasal ye bhi takabur ki alamat hai.
ahadees main aia hai kay chahay tum kisi ko jantay ho ya nahi jantay ho phir bhi salam karo is say pyar bhi barhta hai aur insan gharoor say bhi bacha rehta hai. hamain chayie kay ham bhi khud ko gharoor say door rkhain aur is message ko aam karain. to doston is message ko apnay friends kay sath share karain ye sadqa e jariya hota hai aur iska bhut sawab hota hai.
hazur pak p.b.u.h nay farmaya tha kay jis shaks nay fitnoon kay daur main meri aik hadees ko zinda kia to usay 70 shaheedon kay brabar sawab milay ga. so share it with friends. jazzakALLAH.